Leaders in Commercial Truck Training

Call or Text

(613) 561-4675
Kingston
(613) 888-6477

• Smiths Falls

(613) 888-0744

• Ottawa

(613) 561-4675
Branches
Kingston Branch
view map
598 Cataraqui Woods Drive, Unit 7
Kingston, Ontario K7P 1T8
GPS Coordinates:
N44˚ 16.110'
W076˚ 33.974'
Telephone:

(613) 888-6477
Toll free:

+1 (888) 663-5272
Fax:

(613) 634-1467
Email:
Smiths Falls Branch
view map
Settlers Ridge Centre, 275 Brockville St.,
Smiths Falls, ON K7A 4Z6
GPS Coordinates:
N44˚ 89.2994'
W076˚ 01.5185'
Telephone:

(613) 888-0744
Email:
Ottawa Branch
view map
2473 Sheffield Rd.,
Ottawa, Ontario K1B 3V6
GPS Coordinates:
N45˚ 40.976'
W075˚ 60.8978'
Telephone:

(613) 561-4675
Email:
Looking for the best Commercial Driver Training School in Eastern Ontario?
We are easy to find! Our administrative centre is located on the west side of McCoy Bus Service on Cataraqui Woods Drive east of Gardiners Road. Go to the back to Unit #7! Look for all of our trucks and trailers at the very back!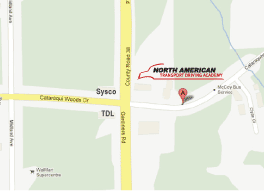 Why would you go any where else?
To see where your career might take you, give us a call or drop us a line!
Call or Email:
Commercial Driver Training Hotline (613) 888-6477
training@nadrivers.com
Looking to attend the truck training school with the most local and over the road placement opportunities in Eastern Ontario?
Have questions about our training?
Feel free to drop us a line by filling out the form below or Call the branch nearest you!